Agrigento: introduction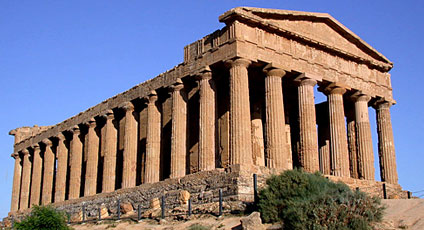 Agrigento is close to the major Sicilian Cities. It is known as the Land of the Almond in Flower. Agriculture and horticulture still provide the main source of income.
Luigi Pirandello was born here. Places to see: the Valle dei Templi, Agrigento Cathedral, the Archeological Museum, the Church of St Nicola, the Monastery of St Spirito, the Church of Purgatorio, the Church of St Maris dei Greci, the Art Museum, the house where Luigi Pirandello was born known as "the Caos".
Itineraries and travel ideas
Agrigento: suggestions from the hotels
Small Boutique Hotels
Emerico Amari
(Proprietario)
Selinunte: a unique landscape suspended between the intense blue of the Mediterranean sea and sky. A land dotted with number of treasures,... (Baglio Villa Sicilia) →
Small Boutique Hotels
Daniele La Rosa
(Proprietario)
"You have to be smart to come to Ibla, a certain quality of mind, a taste for the silent and ardent tuffs, the dead ends, the unnecessary... (Iblaresort) →
Countryside Residences
Julia G.
(Manager)
The region all around Noto is a land steeped in history, culture, scenic beauty and bubbling vitality. which offers itineraries and... (Masseria della Volpe) →
Agrigento: places to see in the area