Ragusa: introduction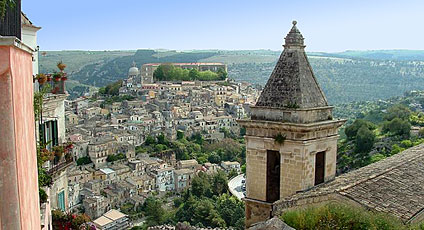 Ragusa is situated close to the principal cities of Sicily (Italy). The town is sited 500 meters above sea level, amongst hills. The town's name derives from Rogos, or "granary", refering to its prolific production of wheat.
Ragusa is divided into Ragusa Inferiore, known as "Ibla", and Ragusa Superiore. Among the monuments worth visiting are the Cathedral of St Giovanni Battista, the Church of St Maria delle Scale, the Church of Purgatory, and Palazzo Donnafugata, where one can see paintings assigned to Antonello da Messina.
Itineraries and travel ideas
Ragusa: suggestions from the hotels
Countryside Residences
Julia G.
(Manager)
The region all around Noto is a land steeped in history, culture, scenic beauty and bubbling vitality. which offers itineraries and... (Masseria della Volpe) →
Guest Houses
Luca Giannini
(Titolare)
- Chocolate tasting in the ateliers of Modica - The unforgettable Classic Plays at the Greek Theatre of Siracusa between May and June -... (Anime a Sud) →
4 Star Hotels
Carlomaria
(Direttore)
Come and touch the true Sicily. Just do a jump in the past and in the beauty of this almost unknown province so unique ... history,... (Hotel La Moresca) →
Ragusa: places to see in the area